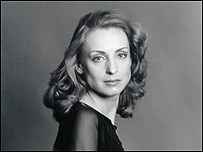 Said prima ballerina Ilse,"I heard about the new ballet and when I listened to the music was absolutely enthralled by the tunefulness and great emotion within the work. I am certain that this ballet will become one of the great classics in the field of ballet".
Says composer Keith Hearne, "I'm really delighted that such a star as Ilse Liepa wants to dance the main role in my ballet. After the Moscow première, it would be wonderful if she and the Bolshoi troupe could also come to London this summer for a performance, especially to mark the 10th anniversary of the death of Diana, who inspired me to write the work".
GILLIAN LYNNE, who choreographed Cats and Phantom of the Opera, etc, etc, is collaborating with Hearne on the ballet.
Further news:
An article was printed in The Times national newspaper in London on Monday 23rd April about the ballet. A picture of Ilse Liepa dancing was included.
Items also appeared in The New York Times, The Daily Express, and many other publications, as well as on news websites (including American ABC News online, AOL), and information websites.
Composer Keith Hearne was interviewed for Russia's Channel 1 TV, about the ballet. The item was transmitted throughout Russia and many other countries on 31st August.
N.B. Hearne's Guitar Concerto is now completed. The virtuoso Russian guitarist Dmitry Tatarkin edited the guitar score.
Hearne has recently composed a Magnificat, a Nunc Dimittis, and two movements of a
'Cello Concerto.
Additionally, he has put music to the 1st World War poem, The Soldier, by Rupert Brooke.
******************************************************************
B. Moscow facilitator: Katarina Oganesyan:
katarinao@mail.ru